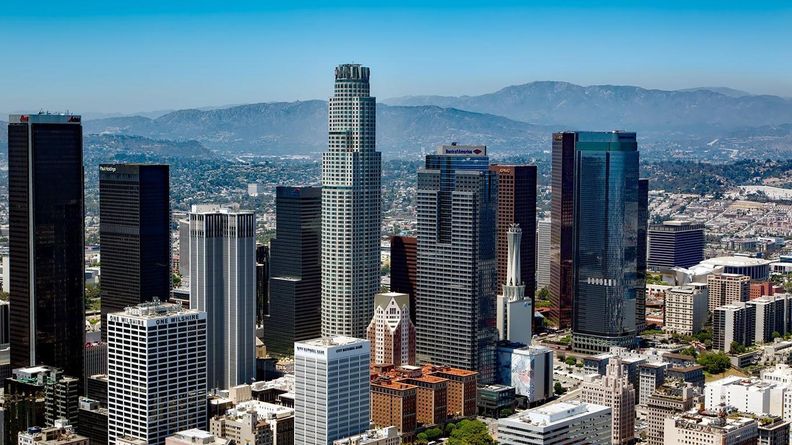 Luggage Storage Los Angeles
Find your luggage storage
Luggage storage in Los Angeles With Radical Storage
Are you looking for luggage storage in Los Angeles? Well, the City of Angels has plenty of solutions, but a few of them are really comfortable and secure. Let's discover together why you should store your bags with Radical Storage.
Radical Storage will take care of all your bag storage needs at conveniently placed storage locations in Los Angeles. We provide more than just luggage lockers in Los Angeles. Our partners, called Angels, are real people, rather than automated machines, who offer storage at their supervised businesses.
We have a very competitive price: only $6 per day/bag with no extra charges if your luggage is a little wider or heavier than usual or if you leave your bags for a few hours or all day.
Luggage Storage near popular Los Angeles hotspots
What Los Angeles is known for? Think palm trees, lazy beaches, and movie stars. But where can you store your luggage in Los Angeles so you can be free to dip your toes in the Pacific and explore this city of Angels?
Stop querying Google with words like luggage storage near me in Los Angeles or bag storage near me in Los Angeles and download our handy app (available for iOS and Android phones). Check out our Los Angeles map with all available storage locations and choose the one that suits your plans and schedule.
Some of our Angels are open 24/7 and are close to metro stations, Los Angeles Union Station and popular attractions. Below you'll find the most popular neighborhoods with our services:
Los Angeles airport luggage storage
LAX, also known as Los Angeles International Airport, is one of the busiest airports in the world and a major gateway to the United States. Located in the Westchester neighborhood of Los Angeles, California, LAX serves as a hub for multiple airlines, connecting passengers to both domestic and international destinations.
With its iconic Theme Building and distinctive air traffic control tower, LAX is easily recognizable. The airport spans over 3,500 acres and has nine terminals, each offering a wide range of amenities and services to cater to the needs of travelers. From duty-free shopping and dining options to lounges and spa services, LAX strives to provide a comfortable and enjoyable experience for passengers passing through its gates.
LAX is not only a crucial transportation hub but also plays an important role in the local economy. It employs thousands of people and contributes significantly to the tourism industry in Los Angeles. The airport is well-connected to the city and surrounding areas, making it easily accessible for both travelers and airport employees.
However, LAX's popularity also comes with certain challenges. The airport is notorious for its heavy traffic congestion, particularly during peak travel hours. Efforts have been made to improve traffic flow, but it remains an ongoing issue. Additionally, LAX has faced criticism for its outdated infrastructure and lack of modernization compared to other international airports.
Los Angeles International Airport provides a luggage storage service with prices based on the size of the luggage, duration of storage, and specific pick-up or drop-off location. This solution might be expensive if you have a lot of time before leaving the city.
For those looking for a more affordable option, Radical Storage has a luggage storage spot in Inglewood, a few miles away from the airport. Our $6 daily rate allows you to go wherever you want without thinking that time has a cost! Ordinary Lax luggage storage services and lockers have an hourly rate. In comparison, the daily rate offers more flexibility.
Book a luggage storage in Los Angeles with Radical
Finally you have arrived in the city of Angels, the beautiful Los Angeles, and there are many different things that you want to achieve while here. However, walking around the streets of Los Angeles with your heavy bags seems a little bit unpractical, so you need to find, first, a nice place where to leave your luggage, so that you can have fun during your trip without a care in the world.
Radical Storage can help you with collecting all the belongings you have thanks to our convenient luggage storage options, located all across the city and nearby the main points of interest. You just need to upload our website or even download our convenient app, available both on iOS and App Store, and you will find everything that you need, in order to book a nice and convenient luggage storage in Los Angeles.
After you have reached our website, you can see our interactive maps, with which you can find your current location or the one that you prefer, and in a moment you will see a list of all the Angels, as we like to call our trustworthy partners. They all have been chosen following standards of safety and convenience, and in a click you can choose the closest one to you and book it.
Why booking a luggage storage in Los Angeles with Radical Storage
If you store your belongings in a luggage storage in Los Angeles using Radical Storage, we assure you that we will be giving you the best experience that you could ever try, by providing you with a seamless booking and an even easier check-in. Here are just some benefits that you can take advantage of, using Radical Storage:
Affordability: We offer a fixed price range prices, which can be considered super competitive, so you won't have to worry about changing prices for the size or the weight of your suitcases.
Security Coverage: For your peace of mind, we assure you with a security guarantee that will allow you with more than 3000 euros.
No-cancellation fee: We know that traveling may come with some change of plans, so we have decided to provide you with a no-cancellation fee policy, so you can cancel freely.
Flexible Timing: Our check-ins are super easy and quick, so that you don't have to wait for longer periods of time while on your trip and our flexible hours can accommodate any request.
Accessibility: We have an extensive collection of luggage storage located in strategic points of the city, so that you can always find something for you.
How do I store luggage in Los Angeles?
Once you drop off your bags, you won't have to worry about anything else! Our partner will place your suitcase in a safe and constantly monitored location.
Also, with the QR code system, your luggage will be recognizable in a few seconds. Each QR code is linked to an order ID, so our staff will always know what your luggage is!
With Radical Storage, you will have maximum comfort and total security. Some of our Los Angeles luggage storage facilities place a security seal on your luggage, while others store it in a secure area of the premises.
Besides, every item stored is covered by a security guarantee of up to €3000.
Before storing your luggage, we suggest you check if the opening hours of the chosen storage point fit your needs. Remember that the schedules are flexible, and you can change them at any time via the app or by contacting our customer support.
Los Angeles to do things
Los Angeles is a vibrant city with a lot of things to do, like spending the day at Venice Beach listening to street musicians and enjoying the funky vibe on the boardwalk in the Pacific Ocean. Or you may spend some time at the beach in Santa Monica before heading off to the trendy shops full of high-end fashion in West Hollywood.
LA offers something for everyone:
For movie buffs
Visit Los Angeles Universal Studios! This theme park is a must-visit for movie fans and families with children. You can enjoy thrilling rides, see live shows, and take a behind-the-scenes tour of movie sets. You probably would also visit Hollywood's Walk of Fame or take in a movie at the historic Chinese Theatre movie palace!

For art fanatics
In downtown la, you will find several places of cultural interest, such as Chinatown and the Japanese American National Museum. The Arts District, just east of Little Tokyo, must not be missed! It was an industrial area reinvented as a hotbed for everything creative – from street art to street food. Don't miss the Los Angeles County Museum of Art

For families with kids
Enjoy a day out at Los Angeles Zoo! Located in Griffith Park, this zoo is home to over 1,400 animals from around the world. You can see elephants, tigers, gorillas, and more.
Top locations in Los Angeles
What users think about us
Translated automatically
Show original
Hide original
-
It's very convenient. Right in the center of the city.
Очень всё удобно. В самом центре города.
-
Super local box with simple to use and close to transport recommends
Super local box with simple to use and close to transport recommande
Hundreds of people enthusiastically use our luggage storage service every day
Hundreds of people enthusiastically use our luggage storage service every day
3 Mln+ Suitcases carefully stored
Keeping your luggage safe is our main mission
7000+ Bag guardians worldwide
Our storage points called "Angels" are all over the world
24/7 Instant support
We are always available to answer your questions
0,00% of missing luggage
The numbers speak for themselves, with us you can feel safe!
Store your bags in a few clicks
The worldwide luggage storage network. Our Angels are bars and bistros who have been checked and approved by the Radical Storage team
Step 1
Locate
Find a luggage storage location near you
Step 2
Book
Proceed with online booking
Step 3
Store
Store your suitcases
Step 4
Enjoy
Enjoy your hands-free journey
Frequently Asked Questions